Solid Core Cables
On this Page :
Overview
Eddy Currents
Connectors

NEW : DNM HFTN wins award
Ready-Made DNM Cables are available, just select your type and the length
Why buy your cables made by DNM?
DNM invented these cables, so we know the best way to build them
We use non-mechanical cable preparation to protect the soft copper solid core conductors
DNM can customise the cable for your system and offer system advice
DNM offer the ideal connecting plugs
Cable strain relief is built into DNM-built interconnect cables
Balanced XLR cables need a special cable build, developed by DNM
Only DNM can build HFTN interconnect cables.
See more in the DNM Online Shop here.

Overview of DNM Stereo Cables
In 1984 DNM made the first spaced-pair single solid core audio cables which over time became recognised for their unique clarity of sound. They were designed to give improved magnetic performance and good amplifier loading, factors which have been neglected by other cable makers. Low cost and high performance ensured the commercial success of DNM cables for over 23 years.

In 2007 DNM cable research moved on : driven by the demands of our amplifier technology, we announced Stereo Solid Core Precision audio cable using a unique design of ribbon to enhance performance and ease of use.

Now in 2013 we have progressed again to two new even higher performance speaker cables, a replacement for Precision called DNM Precision 2 and a replacement for the heavier DNM stereo speaker cable called DNM Resolution.

DNM Stereo Solid Core cable is designed to enable any amplifier driving the cable to work optimally into the cable load. Ultra high frequency interactions between the amplifier and cable play a major part in determining the sound quality of the combination, but observed differences in sound are normally attributed to the cable alone.

The design of the insulated casing (the ribbon) plays an important part in the sound quality of DNM Stereo cables for reasons shown in this link How DNM Stereo Solid Core cable works.

One key aim of the new DNM Stereo cable design was to make the preparation and termination of the cable much easier, so that customers could choose to fit the connectors themselves and save money. Our DNM online shop sells cables and connectors and also offers a construction service for customers who prefer to purchase complete ready-to-use cables.
This link gives detailed information with illustrations about Preparation/Assembly of DNM stereo cables and Directionality.

Since 2008 the DNM range of stereo solid core cables has been extended to three types, two stereo/bi-wire speaker cables and one stereo interconnect cable, offering an ideal cable for most applications with the clearest sound regardless of price.

NEW

: DNM Stereo Solid Core Precision 2 speaker cable - is a compact (see dimensions) dual channel ultra-high resolution cable intended for use in smaller audio systems with higher sensitivity speakers (over 89dB/W). More Information



NEW

: DNM Stereo Solid Core Resolution Speaker cable - is a slightly larger (see dimensions) dual channel ultra-high resolution general purpose speaker cable with 4 times less resistance than the Precision (and the original DNM Reson mono cable) and 2.5 times less resistance than Precision 2. Resolution is ideal for longer cable runs, with lower speaker sensitivity and with higher amplifier power. More Information


DNM Stereo Solid Core Interconnect cable - is a stereo ultra-high resolution interconnect cable in one small ribbon (see dimensions) for all applications that do not require a shielded connection. More Information


The three DNM Stereo/Bi-Wire cables are available to be sent to most countries in our new online shop.


How DNM Stereo Solid Core cable works
DNM uses scientific principles to set the basic cable parameters, defining the magnetic and ultra-high frequency characteristics, both factors that really do affect the audio performance of a cable.

Less certain aspects of cable design, such as conductor shape and propagation velocity of the insulation material, add to the mystique of hi-fi cable design and increase the price but not the performance.

DNM Design considers the interface between amplifier and cable to be vital for best sound quality. We therefore concentrate on getting the basics right and our tests have confirmed that complex cables with speculative design features, even though they cost much more, usually lack in sound quality compared with DNM cables.

The main features of DNM audio cables are described below. Three domestic DNM cables are now available at a modest price but they all give very high performance.


DNM Solid Core conductors
DNM uses single solid-core (round-section high purity copper) conductors to ensure that magnetically generated back-EMF is truly proportional to the signal. This contrasts with the untidy magnetically-generated eddy currents that interfere with the audio signal in the conductors of heavy multi-stranded cables and cables using flat section conductors.

The three DNM Stereo cables use different conductor diameters to suit the application :

1.30mm for normal speaker application (Resolution)

0.85mm for high sensitivity speaker application (Precision 2)

0.4mm for interconnect application.


The insulation and cable construction
DNM stereo solid core audio cables use LDPE (low density polyethylene) insulation in a unique ribbon that is designed to improve the audio performance.
New photos of DNM Ribbon Cables here (in a new window).

The DNM stereo ribbon is dimensioned for the application and it contains four conductors that carry two channels for stereo or one bi-wire channel. The ribbon is a key element because it controls the all-important spacing between the conductors defining the RCL balance (resistance, capacitance and inductance) which determines the ultra-high frequency loading - a factor that definitely affects the sound quality of the driving amplifier.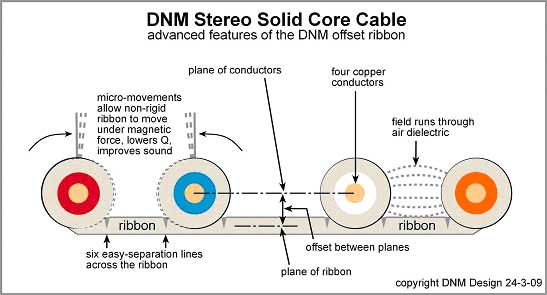 The DNM conductors are encased in a semi-transparent outer ribbon. The ribbon has an offset between its own plane and the plane of the conductors, as shown above. This causes air to be the primary dielectric, reducing the capacitance between the conductors and increasing linearity. Carefully selected spacing between the conductors minimises the high frequency reflections that can reduce the performance of the amplifier.

An easy-separation feature is designed into the ribbon which has the added advantage of reducing its tendency to resonate when the speaker current causes the conductors to be magnetically pulled together (reducing the Q of the structure).

The combined effect of all the advanced features in DNM Stereo Solid Core cables offer a new level of sound clarity at a modest price.

The three versions of DNM stereo cable are illustrated in detail here to compare their cross-section size, the drawing also shows dimensions and full technical information.

Full cable preparation and assembly instructions here - extremely thorough, with helpful photos.


Original Mono Solid Core Cable
Since the early 1980's, there has been an increasing demand for high-quality interconnect and speaker cables. What began as a quest by music lovers to get that little bit more out of their hi-fi systems has grown into a multi-million pound business, full of marketing hyperbole, exotic packaging and enough expensive metal to build a ship!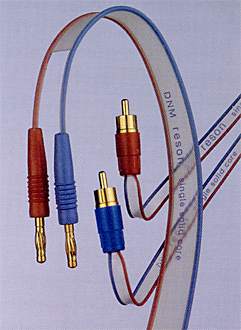 Unfortunately, many of these over-engineered cables owe more to increasing the perceived value of the product than to improving sound quality. Ribbon-type solid core cable was originally developed by DNM back in 1984 and now has many converts. It represents the opposite approach to most of the audiophile cable market, but it is designed for domestic audio - and for that application we believe it is the best at any price.

The majority of cables used in audio have been selected for their low inductance, low resistance and high capacitance characteristics as measured on the test bench. These parameters define what are believed to be the electrical properties most ideal in an audio cable.

Applications, however, vary widely, from recording studios through public address systems and live concert amplification to the domestic, with each having its own particular demands. No multi-purpose cable can suit the precise requirements of the domestic music lover as well as one designed specifically for that purpose - as home listening tests prove!

There are good technical reasons for this.